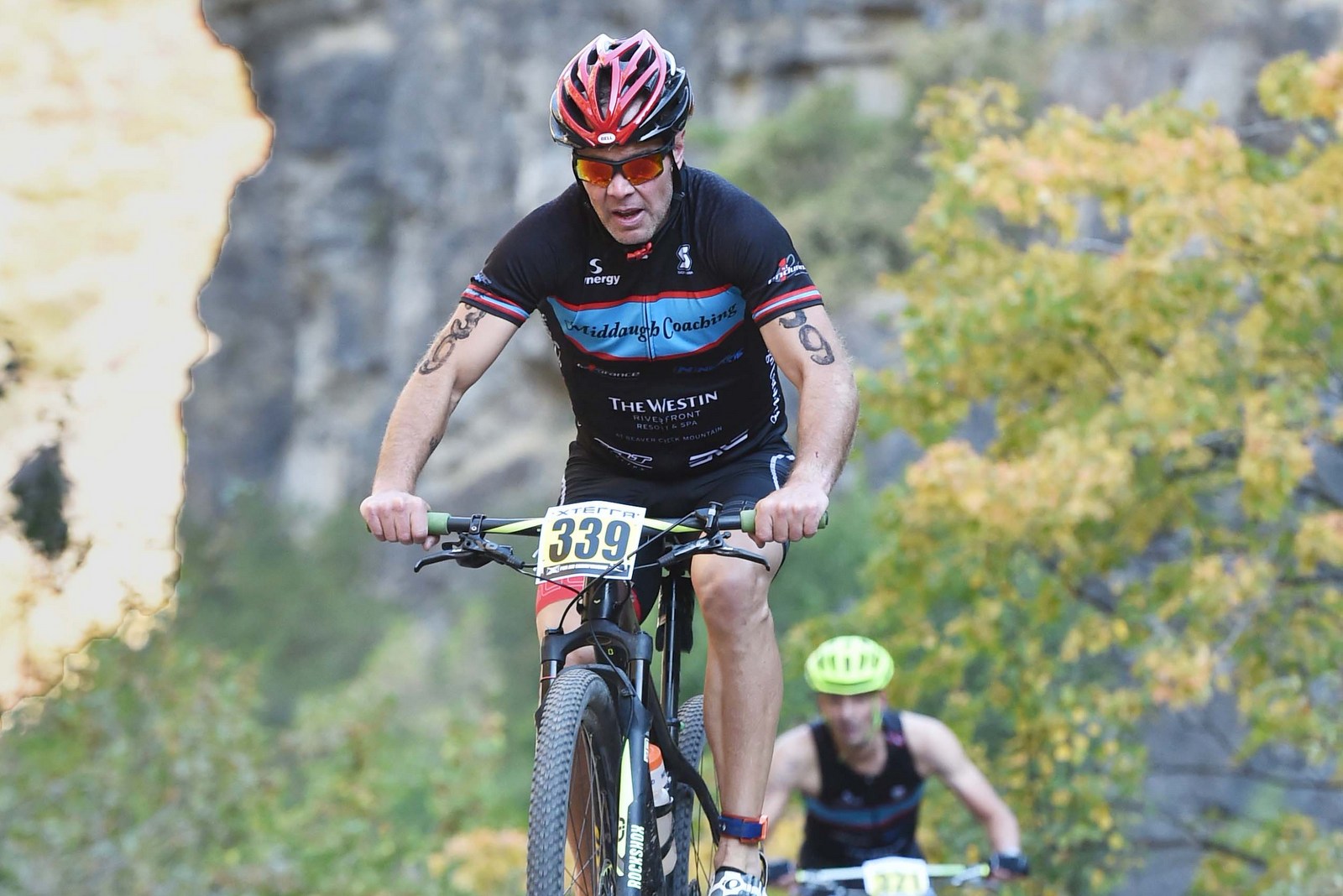 Rappin' with Rife
April 14, 2017 in All, All Triathlon, Amateur, Profile
Two-Time XTERRA USA Champion Rife Hilgartner focuses on training, and living, in the moment.
Rife is a sports junkie. He played soccer as soon as he could walk, was an All-American lacrosse player in college, and is a PSIA-AASI certified snowboard instructor. He's also a NASM CPT-certified personal trainer, a certified Pilates instructor, and the founder of How Fit Training and Coaching.
And in his spare time? Hilgartner trains for XTERRA off-road triathlons, which he's been competing in for more than a decade. His most recent showing was at XTERRA Costa Rica last weekend, where he finished second in the 45-49 age group.
In 2006, Hilgartner was already an avid mountain biker and trail runner when his friend signed up for XTERRA Buffalo Creek.
"We were both waiting tables at the time, and he came back from the race and was like, 'Dude, you should try this. You mountain bike and then you trail run. It's everything you love.' Then he was like, 'But you do a swim first.'"
Hilgartner went home and signed up for XTERRA Crested Butte – despite the required swim.
"My swim was absolutely atrocious," admits Hilgartner. "Out of 200 athletes, I was probably 180th out of the water. But then I rode through half the field and passed more on the run. I got home and I was like, if I can just figure out the swim thing."
Quickly, Hilgartner became enchanted with XTERRA off-road racing. "Immediately, I wanted to go to Hawaii. I wanted to go to the XTERRA World Championship."
It only took Hilgartner a year to qualify for the big race in Maui, and since then, he's been crushing it by constantly striving to be better, stronger, and faster.
"About a year ago, I got out of the pool, and I said to my training partner, 'It's all about how hard can we swim? How big can our power be on the bike? How fast can we cover a trail in Vail?'
"Those are all variables we can control. I can continue to work on getting stronger, faster, fitter. Every day is a day to improve. Today is a good day to be better."
At its core, Hilgartner's philosophy is almost Zen-like. He doesn't worry about times, place, or even tomorrow's workout.
"You can't get bogged down in all the things you can't control, because then you lose focus. You say, OK, I'm going to swim practice and this is what the workout is. I just want to do this thing right now. I want to focus on my form. I want to make sure I'm finishing my stroke. I want to pay attention to all the details," he explains. "Obviously, my goal is to win. I'd be lying if I said something different, but at the same time, when I'm training, I try to focus on being present to what I'm doing."
Hilgartner explains that being present and training in the moment gives athletes a huge mental edge because it teaches them how to endure discomfort.
"When you're in the middle of a hard workout and it totally sucks because it's so painful, you're more likely to give up if you think about how many more hill repeats you have than if you just focus on what you're doing. And if you don't give up, you get all the physiological benefits from your training."
Hilgartner readily admits he used this philosophy at the 2016 XTERRA Pan Am Championship last fall. He had a solid swim and kept picking people off on the bike.
"I was so happy to be there," says Hilgartner. "I remember slapping Marcus Barton on the ass as we ran to T1 and telling him the mountains were waiting! The hardest part of the day was the second climb on the run, trying to increase the lead, but it was worth it when I was on the top step for the second year in a row."
In addition to improving his fitness, Hilgartner's focus on the process flows into other areas of his life as well, from his dedication to being present for his twin girls to his admiration of his girlfriend Cheri, whom Hilgartner calls "the strongest person I know."
Since returning from Costa Rica, Hilgartner is already focused on his upcoming races, taking it one workout at a time, and gunning for the win.
Look for Rife at XTERRA Oak Mountain, XTERRA Beaver Creek and XTERRA Aspen Valley